Here is my Golden Ratio Coffee review. My package arrived yesterday afternoon, after my third cup of coffee. So I tried it for the first time this morning. I recently blogged about this brand and I was excited to try it out! I ordered the original gold coffee flavor. They also offer Chai Spiced and Vanilla Coconut.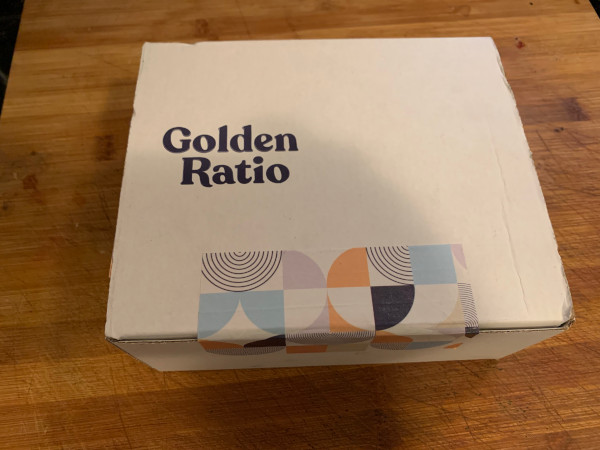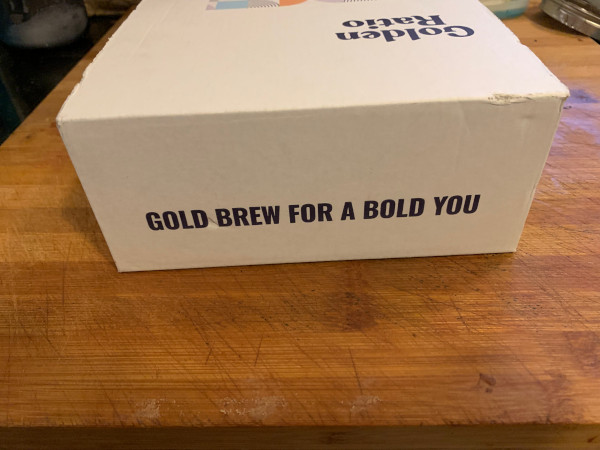 The shipping box has the Golden Ratio Coffee brand on the outside so it got me excited when it first arrived. When I opened the box there was a printed information/promotion card as well as another branding statement on the box cover. I really liked the packaging. The coffee pouches themselves were also stored in a resealable bag to keep them fresh after opening.
Each individual pouch is much larger than a typical tea bag. They hold about 3 times more ground coffee than a tea bag. The coffee is very light in color, due to the very light roasting process. The smell is what I would describe as "earthy".
Official Coffee Review
I followed the directions for hot coffee and steeped the bag in hot water for about 8 minutes. The coffee color was golden as advertised. The flavor was very unique and something I've never tasted before. It was much more drinking like tea than coffee, also as advertised. My husband tasted it as well and we both agreed that there was a very subtle peanut butter finish, if that makes sense. There was definitely a full caffeine kick after the first cup. I enjoyed the flavor but it was not my usual coffee experience. I can see myself drinking this, on a regular basis, especially since I am prone to getting an upset stomach when I drink too much coffee. One of the main benefits of Golden Ratio Coffee is the very low acid content.
One of the drawbacks for me is the cost. The price for seven pouches is $14.99 plus a $5.00 shipping charge. That's fairly high for 7 cups. But if you want a full caffeine punch with 5Xs less acid than regular coffee, this is right for you to try. Who knows? It may become a part of your morning coffee ritual.
If you would like to try Golden Ratio Coffee you can click the shop link below.